Ruby Spark lives up to her name. The gregarious graphic designer and teacher from North Canterbury is a bright and independent self-starter who has already lived in five cities and completed two volunteering gigs abroad, despite being fairly fresh out of university. She has now returned home to New Zealand from her most recent volunteering placement - six months in Samoa with VSA, providing marketing support to the Savai'i Samoa Tourism Authority (SSTA), and will complete a further four months in a part-time e-volunteering capacity.
Tourism is the main source of income for many Savai'i communities, creating employment opportunities and links to smaller income-generating activities such as agriculture. The SSTA was formed to address issues facing the industry in Savai'i and assist local operators in improving the delivery of their services to tourists visiting the island. Ruby was tasked with building a website for the SSTA, where visitors could access information about the services and experiences on offer in Savai'i. Previously there was little for tourists to gather information ahead of their visit, relying on local recommendations on arrival.
"It is quite charming how old school it is in Savai'i, with the reliance on word of mouth" says Ruby, "but this is a challenge for modern travellers, who are used to having information at their fingertips. They want everything to be easy, and Savai'i hasn't been set up for that. Upolu (the neighbouring island) is better supported in that way."
Ruby's job required her to travel around the island and stay with accommodation providers. They were mostly small family-run beach fale, and she worked alongside them to see what their processes were like, gather up-to-date information, and capture good-quality photos for use on the SSTA website. She also helped to upskill them in digital literacy. With her friendly and outgoing personality, a graphic design degree, and a teaching qualification, this was a role Ruby was well suited to.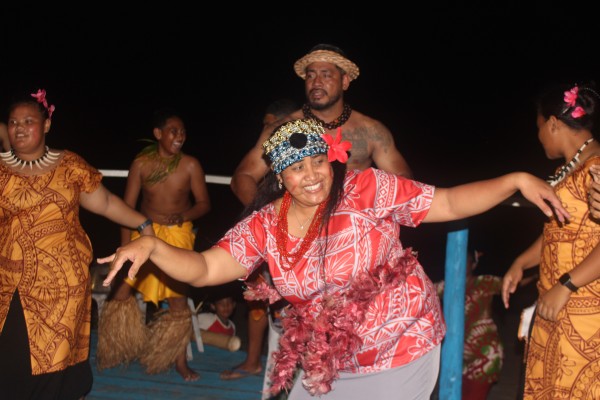 She'd first heard about the assignment from a friend while she was on a teacher-training course with Ako Mātātupu, Teach First NZ. As part of her studies, she was teaching at Tamaki College where there is a high proportion of students from the Pacific Islands. Ruby hoped that the VSA assignment would help her to learn more about their worldview, and further develop her ability to deliver as an educator. There were many first-generation New Zealanders among the Samoan students and staff at the school; a number of them who grew up near where she would be living. They helped her to prepare for her time in Savai'i, including teaching her the Samoan language.
This was not Ruby's first experience living abroad or volunteering, however. As part of her graphic design course at AUT, she had taken the opportunity to complete a semester in Mexico, at Tecnologico De Monterrey, volunteering as an English teacher to university students who wanted to become teachers themselves.
Ruby learned a lot during her time in Samoa. There were some practical challenges such as random power cuts, Wi-Fi outages or transport issues and there is always more that could be done with additional funding. But she says she learned that "it is best to take everything as it comes. The Samoan way is very present focussed. Patience is everything. Your sense of time and your need to plan ahead has to change. You learn to deal with what is right in front of you. To move like water and to show up for every single moment."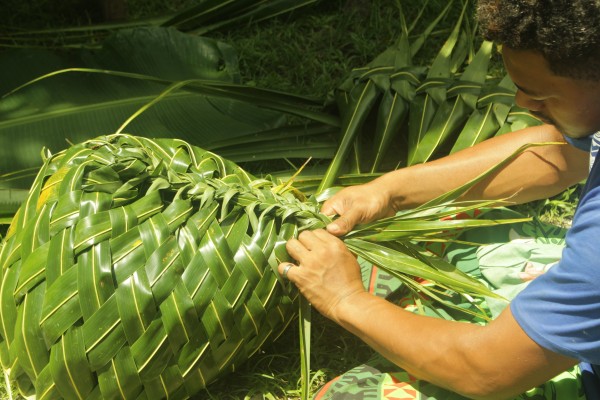 As a social person, Ruby says there were occasions when she felt lonely while on her placement and sometimes struggled with the slower pace of life. But, in line with her go-getter personality, when she saw that the Savai'i marathon was coming up, she decided to use her time to train for it - her first-ever full marathon. She would complete her training runs through the villages early in the morning or at dusk, often trailed by a line of local children, which she noted were mostly barefoot. So, she reached out to her run club, @445_run_club in Auckland and with their support they set up 'Shoes for Samoa', gathering donations of running shoes from friends and businesses such as Shoe Clinic and Smiths Sports Shoes, to be shipped to Samoan schools and help support future athletes. Ruby says, "It was fantastic. I really didn't expect it to take off quite how it did. My run club really got behind it and we ended up donating about 400 pairs of shoes."
On her return to New Zealand, Ruby moved to Wellington, shining brightly in her new job delivering marketing, communications and design work for Taki Rau, a Māori performing arts company.