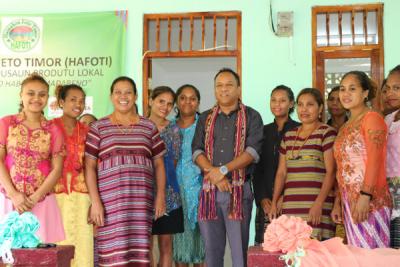 Hamahon Feto Timor (HAFOTI) is a local non government organisation comprising of a consortium of 27 small rural women producer groups across seven districts, with the objective of increasing the capacity of rural women to generate income for their families.
HAFOTI women work together to support each other in business – getting training in business skills, access to revolving credit and marketing their products together under the HAFOTI umbrella. HAFOTI is short for 'Hamahon Feto Timor' – Shelter for the Timorese Woman.
HAFOTI has groups in seven of Timor-Leste's districts; Manufahi, Viqueque, Oecusse, Aileu, Baucau, Liquisa and Bobonaro. One board member comes from each of these districts, and one full time HAFOTI Co-ordinator is employed in each district to support the members.
HAFOTI has an office in Dili where sales and administration is carried out for the group and a HAFOTI shop sells products made by HAFOTI women as well as a variety of Timorese products. Senora Dortia Kese has been HAFOTI's Directress since 2004. Lizete da Costa manages Administration and Finance.
Founded in 2002, HAFOTI now has 250 members.
Visit the HAFOTI Facebook page