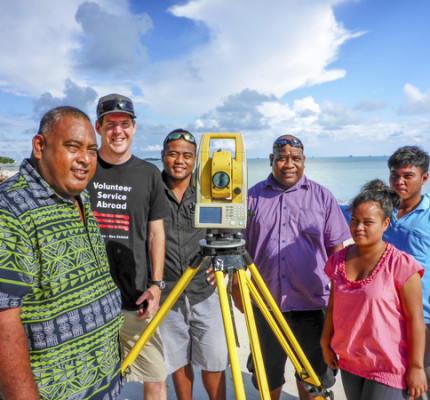 Analyst
Closing Date: Sunday, 5 February 2023
Documents
This is a key organisational position providing analytical support to the whole organisation. This role works to ensure we have great analytical systems and processes in place to capture and report the impact our volunteers are making.
This is a full-time permanent position.
Ko wai mātou – Who are we
Te Tūao Tāwāhi - Volunteer Service Abroad (VSA) is New Zealand's largest and most experienced volunteering agency working within international development. We develop partnerships so we can send our volunteers on assignment. Our volunteers share their skills, experiences, and knowledge with local people and communities in the wider pacific region to make real, sustainable change. 
Our vision for a world with thriving communities, both locally and across the wider Pacific, starts internally with a thriving workplace. At VSA your contribution will be valued as we work, learn, and understand together. Your mahi for VSA can create new opportunities for people that will ripple across communities for generations to come.
Te āhua o Te Tūrunga – The nature of the position
This is an important cross-organisational role, working closely with all teams in the organisation to help them collect, analyse, interpret and report relevant data. In this role you will help ensure VSA's regular monthly reporting is efficient, accurate and appropriate. You will also support our periodic and annual reports by providing input into what should be in those reports and providing the relevant information and statistics from our data sets. You will also play a key role in supporting the development and maintenance of a new business intelligence dashboard for VSA.
In this role, you will become one of our systems experts. You will use your skills to help refine and improve our processes, especially those around data capture. You will pull reports and queries from our databases and systems for staff and provide support and training to staff to be able to complete this work themselves. Your support will ensure our staff and managers are able to make informed decisions to further the good work we do.
Ngā tino Pūkenga/Wheako – Essential skills/experiences for the role
We are looking for someone who can work independently and has excellent relationship management skills. Someone who takes pride in being able to highlight the great impact of our volunteers and work. Someone who has a commitment and a willingness to understand and apply the principles of Te Tiriti o Waitangi to your work.
As our Analyst, you will ideally:
Have experience or a degree in data analytics and good knowledge of good data practices.
Have proven experience building processes and systems to improve data quality.
Be knowledgeable in Microsoft database systems: Power BI, CRM Dynamics and Excel.
Te tono – How to apply:
To join us, we encourage you to apply via Seek.co.nz. Please submit your application with a cover letter and CV by Tuesday, 7 February 2023.
You can view the job description for this role above.
The starting salary for this role is between $55,000 - $65,000, depending on skill and experience.
This role is Wellington-based.
If you would like to know more about this role or VSA, or have any questions about applying, please feel free to reach out to us at careers@vsa.org.nz
(You can also apply by emailing your application to careers@vsa.org.nz)